ABSTRACT:
Today numerous health systems find themselves managing complex medical groups, among which the most complex are the Service Lines. Physicians whose specialties are within the Service Lines (Cardiovascular, Orthopedics, Oncology or Women's Services) find that their clinical work is performed in the hospital settings, yet their governance and decision-making processes often are made within the medical group structure. Frequently, this structure creates misalignment and competing interest, resulting in internal conflict for a health system.  
In this white paper, you will find the steps to overcome these struggles while gaining knowledge from first-hand experiences with a Cardiovascular medical group, which is outlined in a case study highlighting how RoundTable was able to combat these concerns and solidify solutions for a successful outcome.  
PROBLEM STATEMENT:
Structure within complex medical groups is competing with that found in parent health systems.  With specific specialty service lines needing its own governance and organizational processes, they are struggling with the development and implementation of this framework. These medical groups need the answers to the who, when, why and how their organizations will be managed. 
BACKGROUND/SOLUTIONS:
Having extensive work experience as independent consultants with medical groups and internally at regional health systems, RoundTable has identified attributes that high performing groups have in common and have developed individual strategic plans that provide an overall Practice Assessment and Organizational and Leadership Design. Defining and maintaining organizational excellence is the prime solution for medical groups.
 Organizational Excellence 
At the center of organizational excellence is the organizational culture, defined as those qualities that reflect the values or beliefs to which an organization and its individuals should adhere, identifying behavior and ultimately driving the organizations product and outcomes. Culture is a state of belief that must be developed within, however there are some basic foundational operational levers that form the core functional base for an organization, ultimately shaping a culture of trust.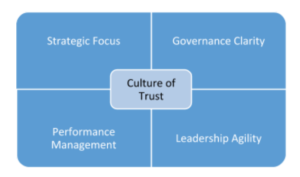 The foundational operational levers, defining Organizational Excellence can be broken down into 4 major categories, the defined attributes for each category are summarized below:
Strategic Focus

Governance Clarity 

Performance Management

Leadership Agility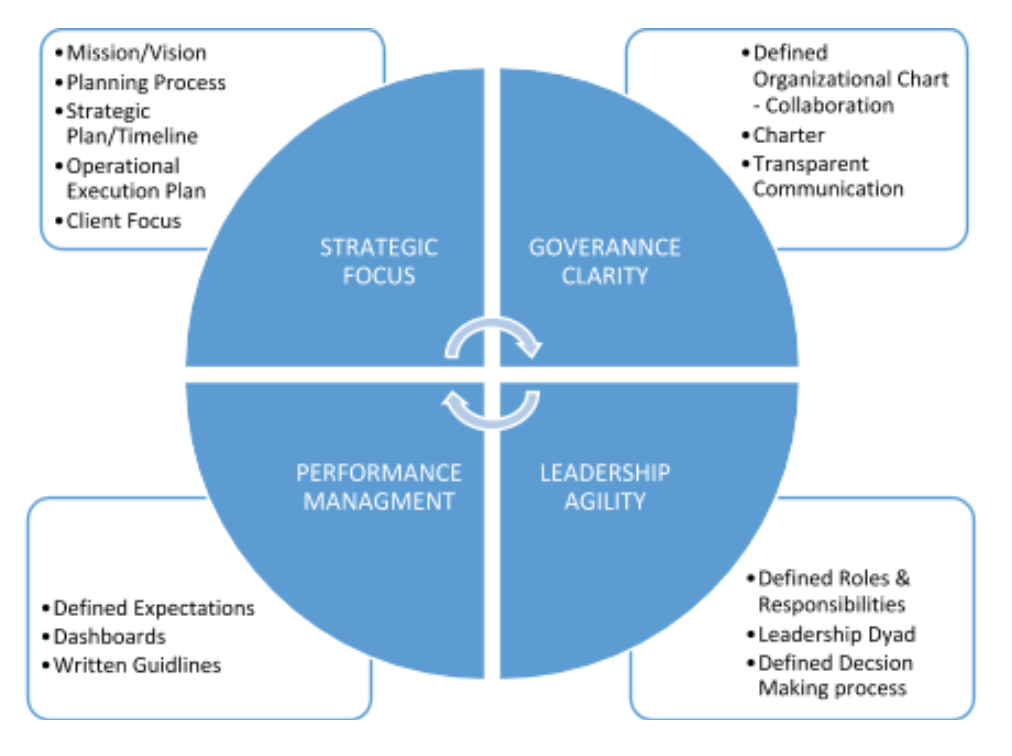 Strategic Focus 
*The strategic focus is that intersection of three key elements of the business model: 
The organization's passion — its compelling purpose composed of values, mission, vision, and goals which inspire and motivate the members of the organization, 

The value proposition of the business — what the customer values in the offerings and rewards the    organization for doing, and 

A distinctive competency — what the organization can do best – above all others  
When organizations define their strategic focus, most will point to a once a year strategic planning session or retreat where the key principles gather, discuss the direction for the organization and identify the threats and opportunities in the market or industry. While the strategic planning is part of the process, the method of connecting strategic direction to your organizational objective and creating organizational buy-in are what defines an organization's realistic strategic focus. Some questions you should be asking regarding your organization's strategic process include:
How do you use the strategic plan?

Does everyone know the strategic direction?

Are budgets created based on strategic plan?

Are operational objectives created based on strategic plan?

How and when do you know you have achieved your objectives?
Defining the objectives or measuring the outcomes, based on specific strategic planning goals will give your organization a sense of direction, providing the members clarity about the plan thus allowing the individuals to execute within their specific domain. Step two of the strategic focus is the ability to evaluate the process or the plan relative to the outcomes. Most high functioning groups actually revisit and review the results within one year, while others reflect on the results more frequently. The process of review gives the organization accountability to the strategic process, consequently allowing feedback on outcomes. 
Governance Clarity 
Governance is the processes and decisions that define actions, rules and norms of an organization. The ability for an organization to create transparency or clarity for its organizational structure, decision making, and communication is paramount to creating trust. We find that many healthcare organizations today have a matrix relationship, with multiple stakeholders and no clearly defined decision-making process, leaving doubt among the rank and file to the organization's ability to act efficiently and effectively, and uncertainty to who holds the title of decision maker. 
It is a fact that high performing groups have a formal governance structure, mostly centered around committees. Those committees can be challenging. The time and lack of delegated authority can cause increased frustration among the committee members if they do not see their impact in the decision-making process. On the contrary, the committees allow organizations to have increased participation among the key stakeholders, develop ownership in the process, and utilize individual interest and expertise. The most effective committees are those selected by their peers, represented of the group diversity, and have clearly defined decision rights. 
For medical practices, the involvement of key stakeholders usually indicates physician involvement. Healthcare organizations struggle with the time it takes to have highly engaged physicians, ultimately taking them away from the primary functions of patient care. Most groups with which we work indicated that their physicians were expected to participate, however interestingly most do not compensate physicians for their time. This would indicate that participation was part of "service citizenship" and was not just a transactional exchange of reimbursement for time.
Performance Management 
Performance management is a broad term coined by Dr. Aubrey Daniels in the 70's that described an application method to manage both organizational results and human behaviors. For high performing healthcare groups, the application of performance management is the processes or tools that are used to measure and manage performance, clearly defined expectations, and accountability for execution. 
The first step of establishing a good performance management process is setting clearly defined expectations. This process is not completed upon the signing of an employment contract, but rather begins with leadership presenting a written standard to each person in the organization. The work standards should be inclusive of all the minimum expectations to each member of the organization., The standards should not be limited to productivity output or behaviors. This process should reflect critical factors in the overarching success of the organization and not be seen as punitive, although there should be consequences for non-conformist. 
Consider the following categories for minimum work standards:
Meeting attendance

Participation in committees

Productivity standard

Outreach participation

Chart completion standard

Coding compliance threshold

Adherence to Appropriate Use tools

Use of EMR Templates/CPOE

Patient Satisfaction threshold

Referring provider satisfaction threshold
The second step in developing an effective performance management program is having written guidelines. While minimum work standards are reflective of the individual; guidelines should shape the organizational expectations, rules and regulations – "how you operate." From our experiences, we should note that written guidelines are not effective if they are not used. These documents should be revised or reviewed at least once every other year. One of the most contentious issues with which groups today are experiencing include the parameters and rules related to long time physicians wanting to slow down, more specifically wanting to stop taking calls but not wanting to stop clinical work completely. This issue is reoccurring as physicians are staying in practice longer, and may be bound to economic slowdowns or recessions.
Finally, all performance management programs should have standard dashboard(s) that measure performance or outcomes, on a regularly defined schedule. Dashboard metrics can be leading or lag indicators that ultimately measure key drivers that effect the overarching success of the organization's strategic plan. While many programs have effective dashboards, we have outlined some common mistakes we see in dashboard metrics and performance management systems: 
Too many measures. It is most effective to have 5 or less.

Lack of support by end user. Consider having the end user choose from a limited list or have the end user create the measure with specific guidelines to keep them on track.

Measures do not represent or correlate with the organization's Strategic Goals. Make sure they do!

Lack of clarity: WHAT? By WHOM? By WHEN? Consider using a SMART system to set goal achievement standards.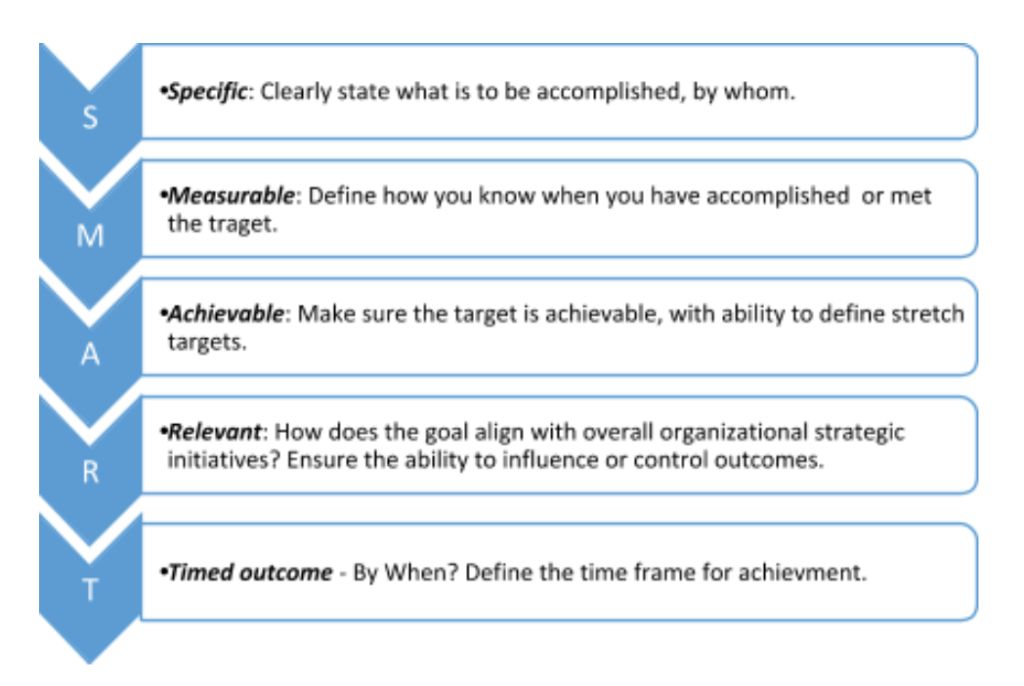 Leadership Agility
The new healthcare organization today is extremely complex; a matrix relationship that can appear to be slow and ineffective when it comes to making decisions. The larger healthcare organizations have a formal structure but may not have a clearly defined decision-making process — leaving individuals confused about who is making the ultimate decisions. This contrasts with the traditional physician-owned medical group where the structure is less formal, yet the ability to get the principles together and make decisions is relatively easy. With the increased integration within Cardiology, the newly formed organizations are challenged with merging the two cultures. NEEDS SOMETHING HERE There is a need to determine which type of matrixes work best for the leaders tasked with achieving the greater successes of the organization while aligning with the primary objectives. Two leadership matrixes are detailed below:
Defined Roles and Responsibilities

– Organizations need to clearly define the roles and responsibilities for their leaders. This will promote clarity for the leader and the organizational membership. The trends in Cardiology are making this fairly simple concept more complex as we try defining the responsibilities of Cardiovascular Physician leaders versus that of the Hospital Executive or Health System leadership. The most successful systems are now combing the expertise of both leaders and creating a leadership dyad that can gain prospective and expertise from each leader.

Delegated Authority

– Healthcare is one of fastest changing industries, for healthcare organizations to be effective, their leaders need to be able to make decisions. Effective organizations have actually defined what decisions are important and who can actually make those decision. While the document may seem very elementary, one thing we have found is a positive relationship between satisfaction and engagement among the membership once they understand the decision that are important and who will be responsible for those decisions. For medical organizations that are interested in physician satisfaction and engagement this tool has helped to create transparency and moving the organization to a trusting culture.
Delegated Authority Matrix example: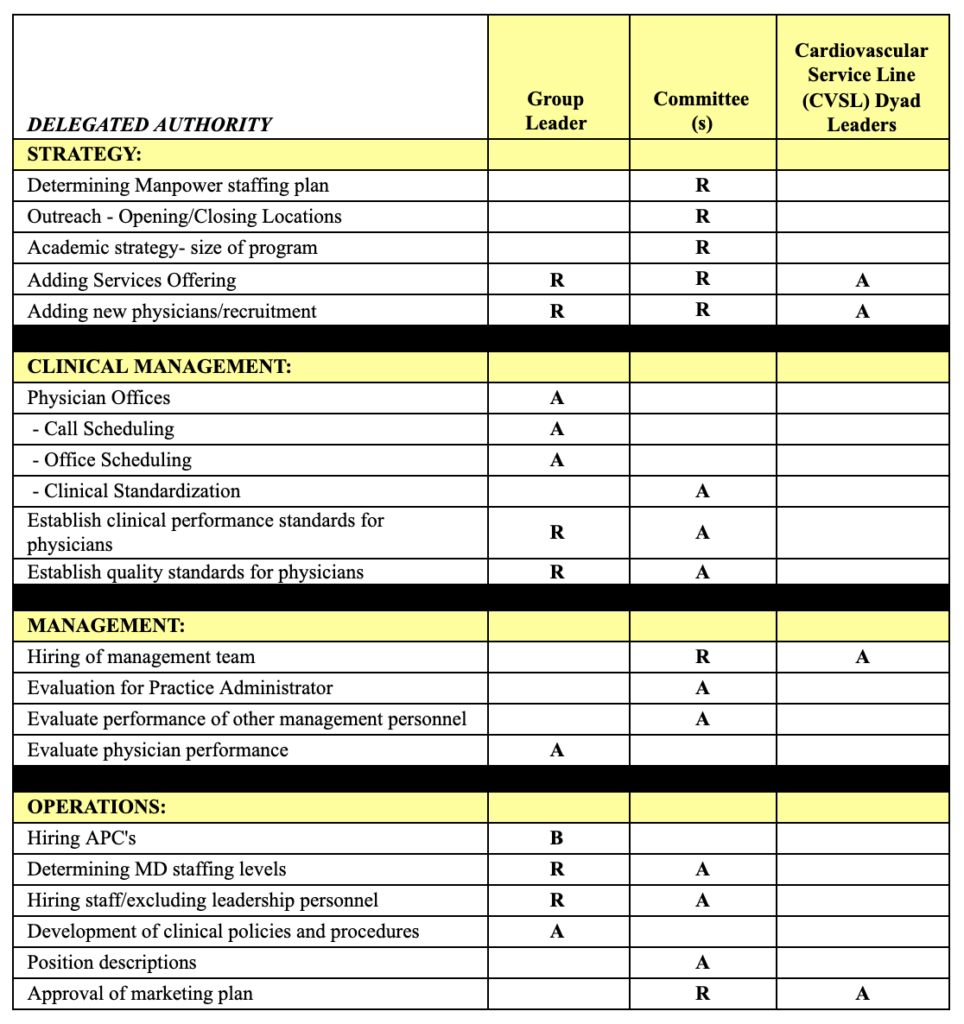 Decision Making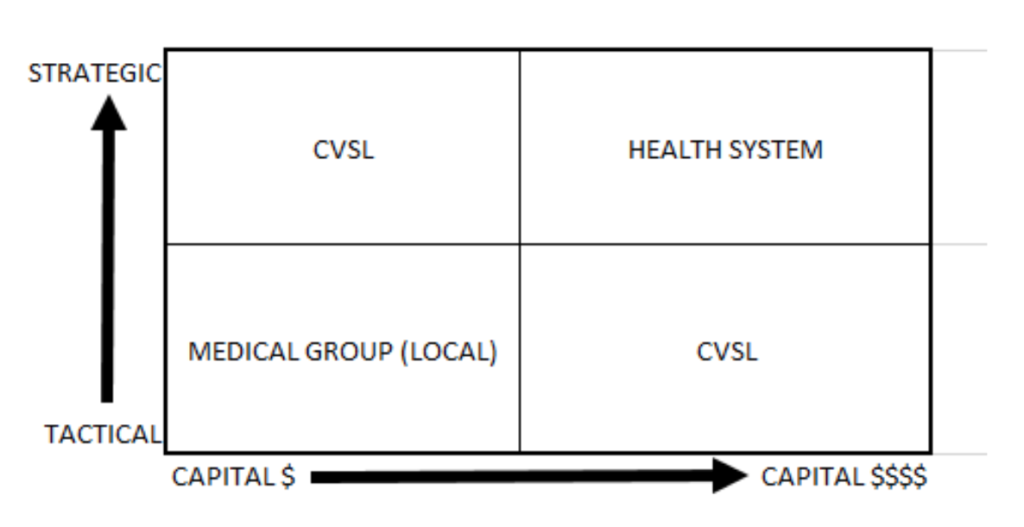 CASE STUDY – EXAMPLE: Committees at Work
Who:
Integrated Cardiology Group, 50 Cardiologists 
The Cardiovascular Service Line (CVSL) Executive Committee was challenged with a request to develop a rural Percutaneous Coronary Intervention (PCI) program without surgical backup, 30 miles from the closest PCI program (STEMI) with open heart surgery. The CVSL leadership moved quickly to have the Operational and Market Development Committees join forces to vet the request and reconvene with recommendations. The committee members included physicians, hospital administration and practice administration.
Issue: 
No incremental increase in PCI volume, or market share projected.

Physician coverage, compensation WRVU model.

Concern of quality outcomes for a low volume program, <50 per year.

Hospital Administration – Halo effect of PCI program in a competitive market.
Outcome:
The collective committees shared their recommendation with the CVSL Executive Committee.  Their suggestion: Do not develop a PCI program at the rural hospital based on the operational costs for and the quality of a low volume program. The committee identified the need to hire at least 2 interventional cardiologists as well as indicating the concerning declines in volumes. The CVSL Executive Committee assessed the larger health system strategic plan and decided to develop a new PCI program based on that overarching strategic plan, siting a defensive strategy to keep current market share. Immediately after the Executive Committee made the decision, physician and administrative dyad leaders held an all-physicians meeting to communicate the decision and announce timelines for implementation. Using the committee information and concerns, the health system incentivized the cardiologists to develop the program, recognizing their time and protocol development.
Lesson Learned:
While the committee recommendations were not originally accepted, the action of involving the key stakeholders in the process allowed the overall decision to be accepted and implemented without issue. The diversity of the committees also allowed for varying prospective to be shared. The committee members knew their roles and responsibilities and understood that the ultimate decision was to be made by the Executive Committee who initially sought the recommendations but ultimately tied the final decision back to the overarching strategic plan for the organization. Upon finalization of the decision, key leadership united to deliver a clear, unified communication strategy to the organization's membership detailing the resolution and why it was selected –creating a sense of unified direction.
FINAL THOUGHTS
In conclusion, it is paramount for a medical group to define the governance and decision-making processes to eliminate conflicts with its affiliated health system.  After all, we are all working to achieve the overarching goals of running efficient healthcare networks, treating patients, and improving the health of our nation. 
In an effort to create organizational excellence, the team must focus on the aforementioned key areas: 1. Strategic Focus – knowing the overall objectives and goals and understanding the direction in which to accomplish results, 2. Governance Clarity – establishing, defining and monitoring policies, processes and decision-making, 3. Performance Management – ongoing process of ensuring that actions are meeting the organization's goals effectively and efficiently, and 4. Leadership Agility – taking direct action in rapidly changing and complicated conditions. These steps will guide the direction of the Practice Assessment and Organizational and Leadership Design, helping to establish a sustainable smart healthy community.
RoundTable has been a trusted partner with health systems, hospitals, and physician groups throughout the nation for more than seven years, stemming from more than 75+ years of healthcare experience.  As a solutions-oriented firm, RoundTable offers wholistic, strategic resolutions for Medical Groups; with specialty expertise in Cardiovascular (including service line development), Orthopaedics, Women's Services, Primary Care and Urgent Care. Through information technology, resource management, revenue cycle performance, and strategic growth and execution, RoundTable has provided the plans and guidance to exceed expectations and needs within the healthcare industry.  
References
*http://www.business-architecture.net/glossary/strategic-focus