We offer a new front door because the "first touch" matters.
As a team of healthcare IT, Revenue Cycle and HCxRM leading strategists, we use our expertise to solve major problems in the healthcare industry. It is time to end the challenge of customer growth and experience through Access, Call Centers, HCRM and Revenue Growth and Integrity.
We offer services and solutions that place the client and patient as the focal point of each engagement while providing value to their health organization. We are increasing a value-based consumer oriented experience.
Customer Experience & Relationship Management (HCxRM)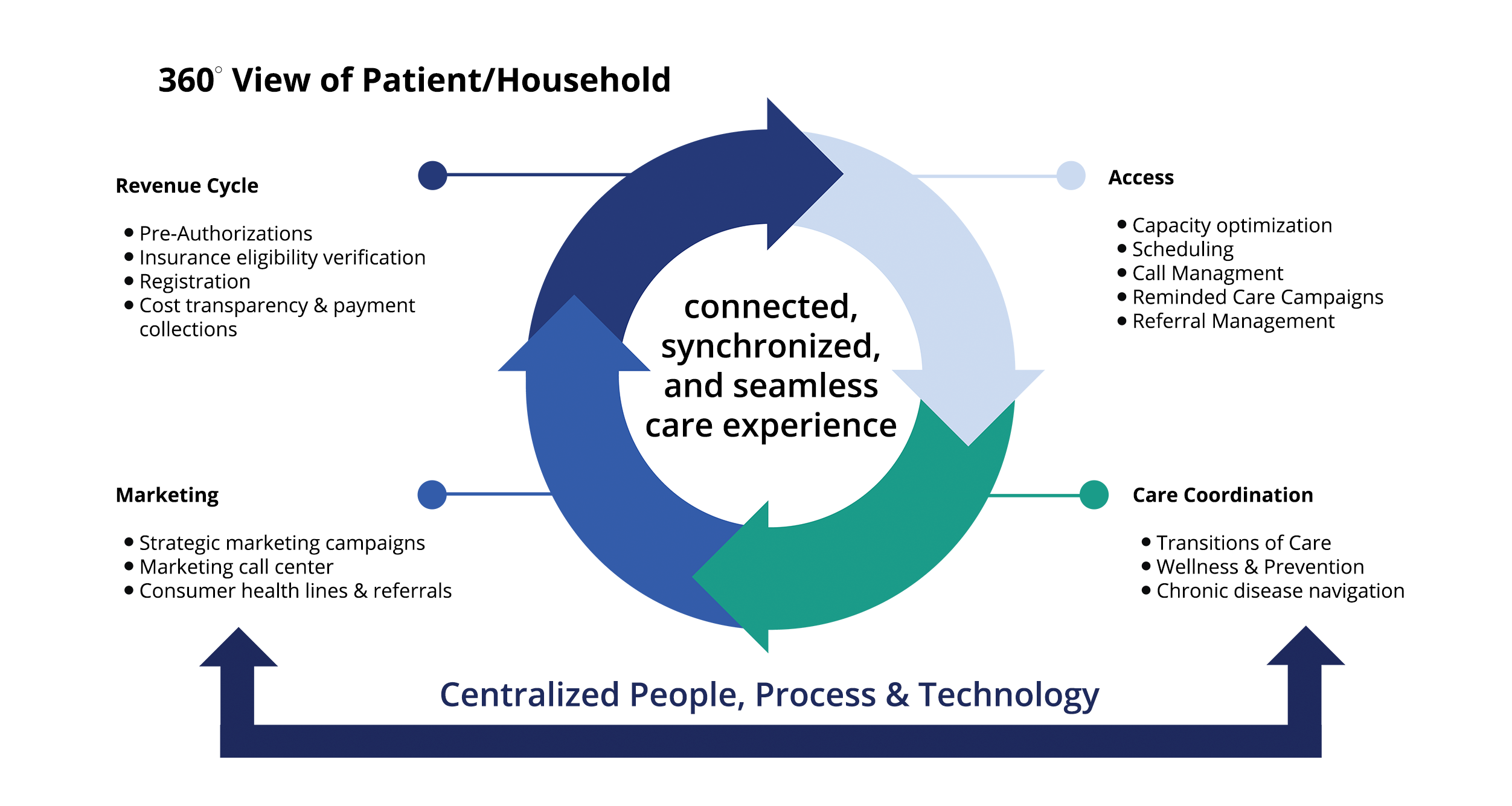 Customer Experience is critical for growth and retention.
Consumerism has disrupted major industries including retail, financial services and more.  Now it's healthcare's turn. Patients want you to know them, they want a seamless, connected and synchronized experience that they experience in other service lines.
RoundTable's team of experts are designing tailored strategies for our clients, resulting in higher patient retention and new patient growth.
Value + Engagement = Growth
We share our knowledge to assist our clients in learning more about their patients' journey. Knowing your customer/patient from a 360 degree view of patient and household, while creating a seamless and consistent omni-channel experience with the right service at the right time and in the right place will yield a superior touch. That touch for the first time is beneficial for new patients. Coordinating "all" touches will assist with the ongoing challenge of retention.
Revenue Cycle Growth, Integrity and Leadership
Health systems, hospitals and physician groups face continuous pressure to determine revenue opportunities, reduce costs, gain and retain patients in growing its practice. With the continuing changes in the healthcare industry, organizations are being forced to change the way they operate.
Our team helps such organizations focus on revenue cycle management in a new way. We assist our clients in ensuring revenue integrity by considering the entire revenue cycle from the back office to the mid-cycle and the front end.
We have guided a number of large and complex client organizations in mitigating risk to revenue through Revenue Integrity and Growth efforts, including providing gap assessment, Interim Leadership, CDM analysis and consolidation, auditing, facilitating operational engagement and providing knowledge transfer and mentorship to client internal resources.
Our methodology has identified several guiding principals which are key to executing an effective Revenue Cycle Integrity and Growth Program: Compliance, Standardization, Cultural Collaboration and Resources.
Implementation and Optimization Support
As health systems and provider organizations embrace the changes in our healthcare landscape, it is critical to ensure you have the right IT capabilities, tools, and skilled resources in place to support your organization now and into the future. Reimbursement changes, cost pressures, interoperability requirements, market consolidation and evolving business models requires Executive Leadership to carefully examine, develop and implement affordable IT solutions.
Our experienced IT consultants provide healthcare organizations a best-practices approach to maximize the benefit of Epic, Cerner, MEDITECH, Allscripts, athena, NextGen, GE and eCW applications. The RoundTable team brings a unique method utilizing consultants who possess both application and operational knowledge. Combined with our methodology and approach, our team has a proven track record of guiding and advising healthcare organizations through EHR and revenue cycle implementation and optimization engagements.
Lauren is a wonderful recruiter…She does a wonderful job of balancing of the needs of consultants, has a good understanding of the work being done and is an EXCELLENT listener. You can tell she truly cares about you…"
I love my job and I love Round Table for being probably the best organization I have worked with.  That sounds so sappy but none the less its true. Thank you for making me feel like I matter.
RoundTable has leading expertise in the CRM and Clinical Operations space.
I absolutely agree that Shalin is adding value.  His participation on some of the design calls for Acute has been very welcomed by the team and the one report that he has helped us with so far has been tremendously valuable in defining and aggregating one particular segment of our DNFB that was previously unable to be truly quantified.  He's developed a very good rapport with Deloitte and our Cerner Solution Consultants, and I feel like our Information Systems team would echo many of my positive comments.  We are all thankful to have someone with fundamental knowledge of our system being available (and responsive!) to us that is an informed third-party.
The process and methodology you took us through was enlightening and readied our organization for this transformational work. You guided us to look in the mirror at ourselves. The team's passion for this work was so evident, and it helped build excitement and engagement across our executive and leadership teams for where our organization is heading.
For stressful times that come with the nature of consulting engagement, Lauren does great little extra to make sure you know she and the company care about you and work you are doing. She arranged a perfect and highly personalized gift box of goodies for our Epic go-live…Those little extras and check-ins that Lauren is great at really mean so much, she is amazing!
The team is thought-provoking and outcomes-driven.
You guys are awesome and I really appreciate the phone call from you and Casey this afternoon. I've done work for several recruiting firms in my career, and y'all are definitely the most responsive/attentive.
RoundTable team had a great understanding of guiding principles and philosophies.  They identified issues and aligned to best practices. We appreciated how forthcoming and transparent they were in their thought processes along the way.
Trusted Partners
We are privileged to work with some of the nation's top large complex healthcare systems, Integrated Delivery Networks, academic health systems, ambulatory and independent physician practices.